Weet je wat nou zo leuk is?
Als je net zoals ik vaak op de schoenen, tassen en accessoires webwinkel Spartoo.nl komt, kom je nog naast hun prachtige collectie damesschoenen ook weleens super leuke win acties tegen.

Zoals Operation fifty fifty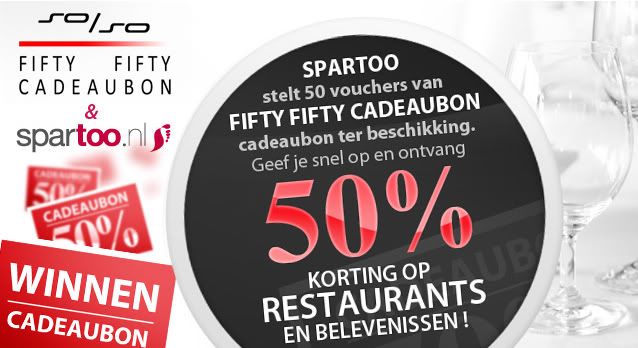 Spartoo.nl geeft 50 cadeaubonnen weg van FiftyFifty Cadeaubon.
Je kunt de Fifty Fifty Cadeaubon inleveren bij 66 restaurants en 17 belevenissen verspreid door heel Nederland.
Een gratis 2e menu bij een restaurant, een gratis 2e toegangskaartje bij een belevenis of 50% korting bij een belevenis. Het kan allemaal met de Fifty Fifty Cadeaubon.
Bij Spartoo.nl hoef je dus alleen wat gegevens in te voeren je dingt mee aan een van de 50 cadeaubonnen!
Operation fifty fifty <--- klik om mee te doen!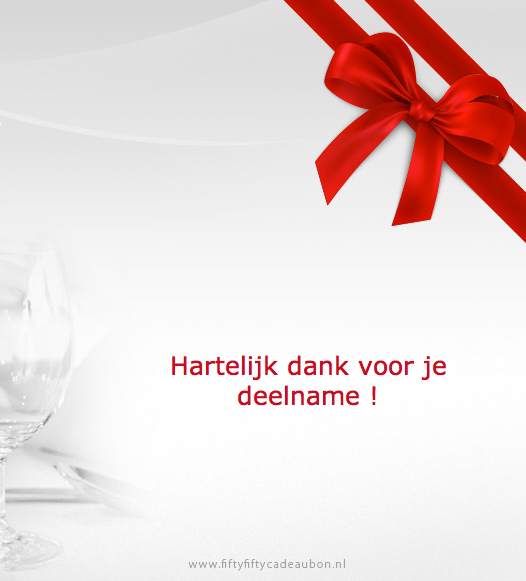 Dat is niet alles, neem ook eens een kijkje of LIKE Spartoo op facebook en doe mee met de leuke facebook prijsvragen!!
Spartoo facebook <--klik!
Neem ook een kijkje bij de SALE op spartoo.nl kortingen lopen hoog op!!