Well, this week started hectic.

My father is in the hospital since monday morning and he will be there for some time,
in short he's had an abdominal aortic aneurysm (suddenly) which is very very bad.
It was life threatening! Very rare for his age, normally this would happen to people around 70..mostly men.
He's had an very hectic and long operation and since yesterday he's been awake and i really thank god that everything went ok (after the operation you must wait 24 hour before you can say that everything went ok)

I don't want to know what would have happened if the ambulance were here later.
(there's a whole story behind this, maby i will explain later)


That's the shortest version ever...just wanted to update a little and say that this week i probably wont update as much because i will be visiting my father in the hospital.

I'm thankful that everything went ok, but i feel so sad for my dad...why him (not that i wish this to someone else)

Yesterday...well actually this night i made him a get well soon card.
(only we understand the text...feeling blue = changed into feeling bubla...because it's an vw beetle bubbla...my father loves vw beetles)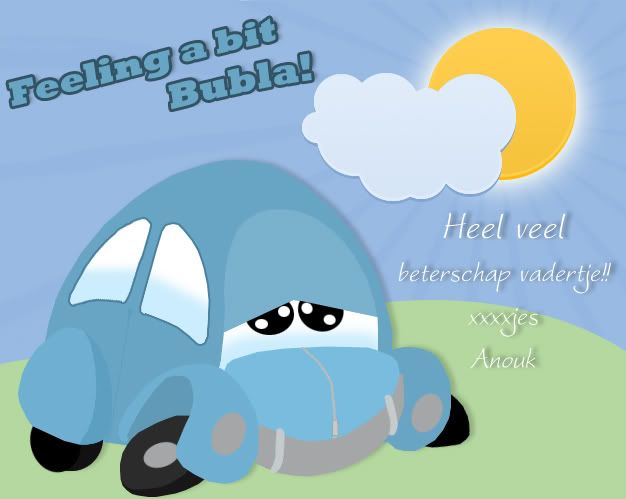 My dad's vw beetle, he also has a vw beetle bubbla, but he's working on that one.