OMG I HAVE HUGE NEWS!!!!!!!!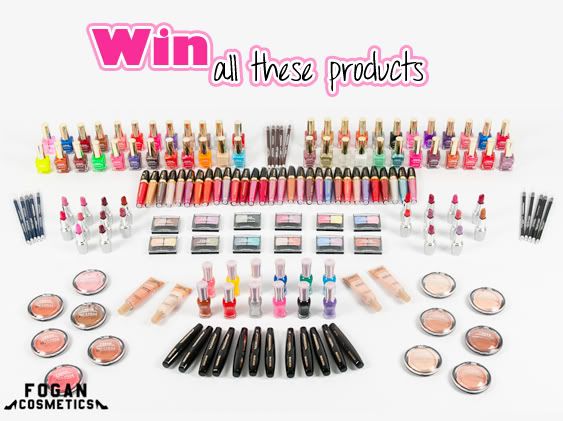 Omg are you kidding me? Nope, it's true...i'm hosting a giveaway from Fogan Cosmetics.
You can win the whole fogan cosmetics collection (all 165 products) (that is one BIG ASS package)

Which mean you can win:
- 30 colors lipgloss
- 20 colors lipsticks
- 12 colors eyeshadow
(each eyeshadow palette has 2 colors, total off 24 diff colors)
- 1 color mascara
- 3 colors eyepencils
- 4 colors foundation
- 6 colors compact powder
- 6 colors blushes
- 12 colors Crack nailpolishes
- 48 colors nail polishes
- 10 different accessories
(such as nailbuffers/make up brushes)


The only thing you have to do to enter this giveaway is
subscribe to Fogan cosmetics newsletter


*click for link here*

AND
post a comment below with your name and email address!!


That's all!!
:)

Next week i will randomly pick a winner and contact the winner by email!!
*only people from the Netherlands can enter..sorry*

GOOD LUCK!!!!!!!