In almost 10 hours it will be 2012 here (netherlands) and i really don't care that much about it.
Feels like any other day.
I'm hearing all kinds of noises outside, those irritated "bomb" noises from fireworks...which i can hardly say it's fireworks...because all it does is makes big sounds"BOOM...knak..knak..knak...BOOM" no sparkly magic lights in the air.
Where's the fun in that? Our dogs are messed up right now, they are scared >_< of the firework noises, it's so sad to see. Hope there will be some pretty fireworks at midnight, so i can stare at it for a couple of seconds and then to my room :P



Oh well, here is my outfit of the day: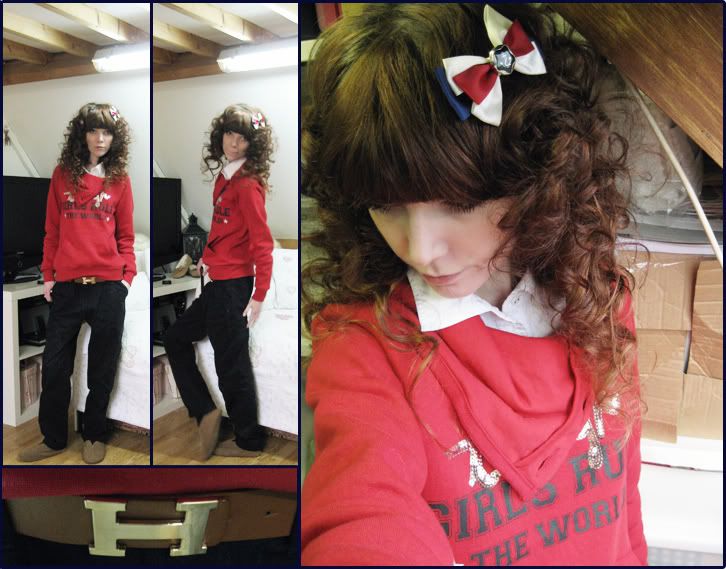 *someone flagged my look for deletion on lookbook.nu..i don't know why...that someone must have hated my look or something :P*

I'm wearing my long hair clip ins, from LienStyle.be again.
My selfmade dark blue chino's, new sweater and slippers hahahaa.

I'm feeling a bit down today, don't know why actually.

Oh and the plaid shorts and skirts from yesterday (h&m) are going back, i fitted them both this morning and the skirt is not flattering on me haha lol..i don't know..i don't like it on me.
The shorts i think look nice, but i dunno...i don't like them so much on me :/

Before i forget EVERYONE Have a happy newyear!! May all your wishes come true, have healthy and super good 2012!!