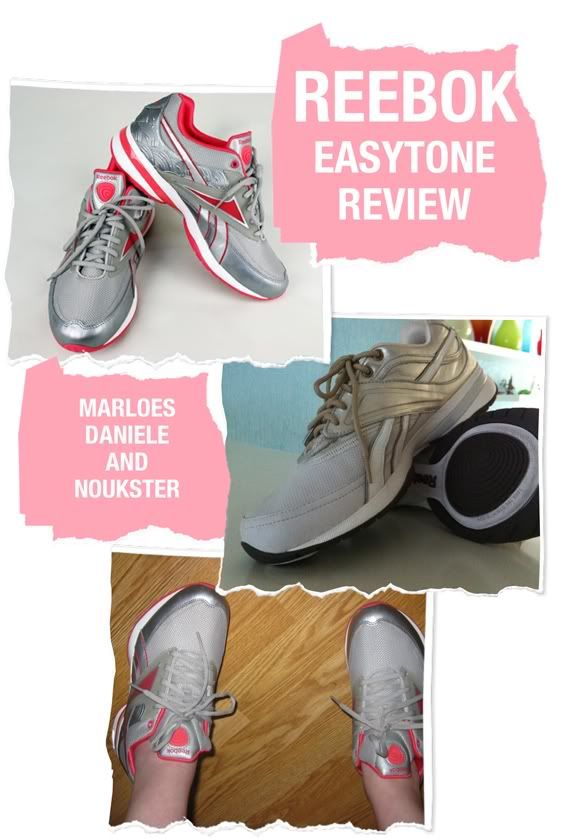 Marloes, Daniele and i had about one week to test the easytones and now it's time to review them.

Marloes:
A few weeks ago I went to the store to buy a new pair of aerobic shoes.
When I saw the Reebok Reetones on a shelf in the store, I instantly wanted them.
They looked very cool and they are correcting your figure.
Very useful, until I saw the pricetag...
This is why I was very happy with the contest on www.nouksterinthecity.com.
After reading the article I immediately send Anouk an e-mail.
I was very surprised that I won the contest.
After the shoes came in, I immediately put them on my feet to give them a testwalk.
I used them during work, sports and just for a nice walk.
When you walk with them it feels like you are bouncing.
I think that happens because of the pods on the sole.
One week is to short to give them a full test, but I think they can have an effect on my figure.
------------------------------------------------------------------------------------------------

Daniele:
When i first tried the easytones they felt comfortable but a bit weird because of what is under the shoes.
A few minutes later i got used to it and now i like the feeling of it when i walk.
After a while wearing them i felt something in my legs, not a pain, but a working out sort of soft pain.
Then i knew that they must really work.
I definitely recommend easytones, they don't look odd or platformy like some shoes do, and you can't argue with toning your butt by 28% more than usual. :)
------------------------------------------------------------------------------------------------

I'm not going to write a whole review, because i agree with what Marloes and Daniele had to say about them.
It's funny to see how the three of us are pleased with easytones.

But did the easytones gave us 'buns of steel'?

One week is too short to fully test them out if easytones gave us 'buns of steel', but i think the three of us will continue wearing the easytones and after a few weeks i will contact the 2 girls if they already have bun's of steel.
For now we can say that we are very pleased, we felt something after wearing the easytones, that they are comfortable and good looking. (for walking shoes)

I think i can speak for the three of us that we want to thank Reebok for the opportunity testing the Reebok easytones.
THANK YOU!!!!!!!!