Shizo is an online store that only offers natural products,
such as make up, perfume,facial, body and hair care.
Their mission is to only sell products that are pure nature, without any nasty chemical and synthetic stuff in it and aren't tested on animals.
Shizo sells a lot of great brands for skin care and one of them is called 'Face Boutique'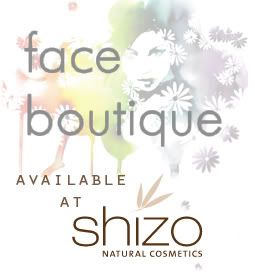 Pure skin care for girls up to their late twenties.
Click on the link to read more:
The product that i got is called 'Peachy clean'.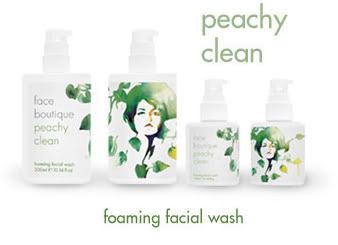 A simple daily skincare helps keep your skin fresh and your complexion clear.
It soothes troubled skin, gently washes away excess oil and stops nature from going into over-drive.
Now you may think…what? She doesn't need that…well i do…
In general my skin is clear, but a few times a year my skin goes crazy and then it's not so clear.
Times like that my skin needs extra extra care and this product might be the solution.
Review on this product will come soon!
For now i can tell you that it smells delicious and the package of the line looks lovely.
A fact about 'Peachy Clean'
Peachy Clean have been nominated for the Natural Health Beauty Awards 2009.
So it has to be good, right?

More about Shizo:
Shizo also care's about the environment by recycling their own paper and they her use the packing materials from their supplier.
Even the website is climate neutral, which is very eco friendly!
I learned so much in a few years of how the world is destroying all beautiful things that there is out there.
Just watch the documentary "earth" and "the inconvenient truth by All Gore" and you know why this is so important!
I for one think what Shizo does is such a great thing, they really think of the environment and not themselves!
It may not be the solution for the problem that is out there, but it helps!
Shizo is Honest, Exclusive and Eco chic.
Go see for yourself at
www.shizo.nl